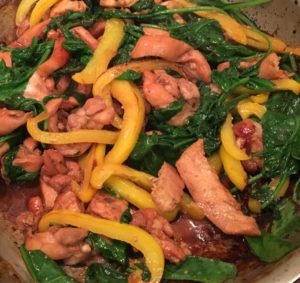 My toddler (and hubby) LOVED this dinner.  I loved that it's an easy teriyaki sauce to make at home.
Ingredients
2 tablespoons soy sauce (I recommend low sodium, or the dish will get salty)
2 tablespoons water
1 tablespoon brown sugar
1 pound boneless, skinless chicken breast
1 pound boneless, skinless chicken thigh (you can do all white meat with 2 lbs of chicken breast, but I like the added flavor of dark meat)
4 tablespoons olive oil
1 large bell pepper, seeded and cut into strips (1 1/2 – 2 cups)
3 cloves garlic, chopped (I buy it minced in a jar, and keep in the fridge for easy use, so it would be 1 1/2 teaspoons of minced garlic)
1/2 teaspoon black pepper
10 ounces fresh baby spinach
1 cup fresh basil leaves
To make
Whisk together soy sauce, water, and brown sugar in a mixing cup.
Place all chicken into a zipper plastic bag, and pour marinade over chicken.  Compress bag (so chicken is bathed in marinade), and allow to marinate for a minimum of 30 minutes.  (I allow to marinade longer: about 1-2 hours in the fridge, and the last 30 minutes at room temperature).
Heat 1 tablespoon of olive oil in a large saucepan over medium heat.  Add peppers and cook until softened (about 3 minutes), stirring occasionally. Add garlic and pepper and cook 1 minute more, then set aside in a separate bowl.
Heat 3 tablespoons olive oil in skillet, and add chicken.  Cook (stirring frequently) until chicken is no longer pink and juices run clear, around 5-10 minutes.
Add spinach to chicken in pan, and cover, stirring occasionally, for 2 minutes.
Add peppers back to chicken and spinach in pan, stir, and serve! I add rice or quinoa as an easy side.
Special thanks to AllRecipes.com for the original recipe (that I modified here).